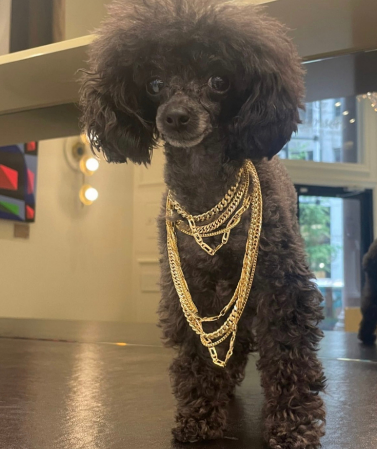 Meet Tink - a teacup poodle who, despite being only 1.2 lbs, works as security for 
Grimson and Sons
. Although they might be similar in size, Tink is not named after Tinkerbell - she's actually named after the tinkering that goes on in the metal shop where she works! 
Grimson & Sons is Vancouver's oldest original manufacturer of fine jewelry and has been around since 1945. I had met Tink (and David, the creative director and owner of G&S) awhile back when I visited their shop - and I'm really thankful for their generous donation of a beautiful custom-made ring to the 
Dr. Peter Centre
 silent auction that was put on for the Pride Cocktail Kickoff fundraising event a couple of months ago. 
If you're looking for a one-of-a-kind custom piece of jewelry for yourself or as a gift leading up to the holiday season I'd encourage you to reach out to Dave and the team at Grimson and Sons! Both the atelier and a recently opened (pet-friendly) boutique are located in Downtown Vancouver. Check them out at 474 Granville Street, and make sure to be on your best behaviour or else you'll have to deal with Tink! 
- Sid